Nelson Heat Trace offers the industry's broadest line of heat trace cables, controls, monitors and accessories. Since pioneering the mineral insulated heating cable in 1952, we've continued to research and develop new heating solutions while refining time tested performers, ensuring that customers never need to "force fit" a product to meet their specialized application needs. From process temperature maintenance to freeze protection, hot water supply, tank and vessel heating, frost heave prevention and more, Nelson Heat Trace offers a right fit solution for any heating requirement.

Industrial-Grade Heating Cable for Water Supply and Drain Pipes, Roofs and Gutters, or Maintaining the Temperature and Flow of Piped Liquids. Self Regulating, Cut-to-Length.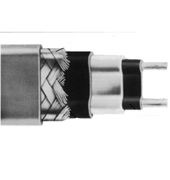 CLT Series heating cables provide a industrial and commercial-grade solution for preventing frozen pipes or ice damming of roofs and gutters. These self-regulating, cut-to-length cables are normally installed in commercial and light industrial applications, to maintain pipe temperature and prevent freezing in ambient temperatures down to -40°C/-40°F. They can also be used to maintain liquids in pipes at a constant temperature or maintain constant viscosity and flow. For roof and gutter heating, CLT Series cables can be installed on a wide variety of roofing materials, including temperature-sensitive roof coatings.

CLT Series cables can be installed in dry or wet environments and are available in power densities of 3, 5 and 8 watts per foot, at 10°C/50°F for both 120 Vac and 240 Vac when installed on insulated metallic pipes and vessels. 240 Vac cables can also be used in 208 Vac or 277 Vac applications. A wide range of accessories is available to simplify installation and adapt to individual application requirements. Cables are UL Listed and CSA Certified for use in non-hazardous locations.


Remember: SMR Gulf Coast keeps a wide variety of Nelson Heat Trace products as standard local stock items, cut-to-length, for immediate delivery

.
Complete technical assistance available when you use our Application Design Services, including detailed bill of material and thermal calculations. Send us your competitive parts list and we can cross them to Nelson!