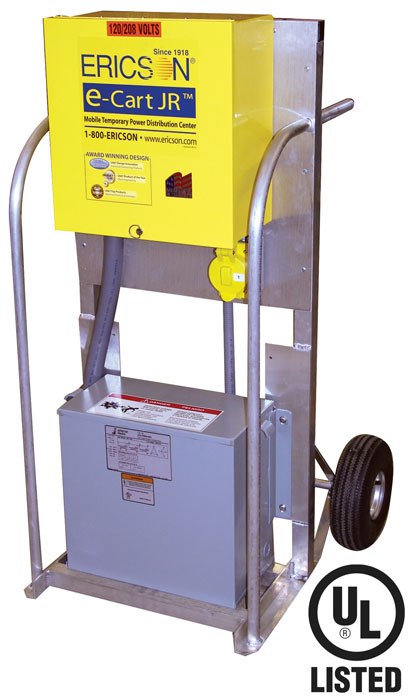 The E-Cart Jr. delivers power transformation and distribution functionality utilizing a unique platform that is built ruggedly enough to survive the harshest jobsite environments, while delivering benefits such as simplified connectivity, panel access clearance and portability. Flexible configuration alternatives, with breaker and receptacle personalization, provide the ability to meet specific application requirements without the cost typically associated with custom solutions.
The complete assembly is ETL & cETL listed for U.S.A. and Canada, NEMA 3R rated, with a 15KVA transformer, and supports input voltages of 480 V and 600 V. Additional capabilities include single and three phase operation, flexible main power configurations, job-site friendly breaker panel access, wheels or skid trans-portability, built-in forklift access and a heavy duty welded aluminum frame.
Designed for simplified plug-n-play use, the Ericson "system" of temporary power solutions requires minimal setup and teardown time, saving valuable time and the associated expense. These solutions are ideal for a broad range of temporary power applications including general construction, maintenance and repair, oil and gas exploration, emergency response, entertainment venues, and rental services.
15kVA Mobile Power Distribution Center
480V or 600V , 3 phase or single phase 60Hz power input
15kVA epoxy encapsulated all-weather transformer (standard)
EZ to move – heavy duty 500 LB custom cart with large tires
Output power options : 120Y/208V with 3-phase transformer or 120V/240V with single-phase transformer
Panel style or Combo 3R in-use load center with GFCI protected circuits*
NEMA Type 3R main fused disconnect switch (sized to transformer capacity)
Select model number based on input power & phase
NEW – Some models come with 50A 120/240V CS style twistlock receptacles for OSCAR Box power – EXTEND THE POWER 200 FT or more on the Jobsite !
* Some models have GFCI Duplex receptacles & non-GFCI circuit breakers for the branch circuits in place of GFCI circuit breakers and non-GFCI duplex receptacles. All 20A branch circuits are GFCI protected and in compliance with local, OSHA and NEC regulations.
Find this and other power distribution solutions at Ericson.com.